Broadcasting on Radio, TV and Film
Most of Stephen's broadcast work has been for his favourite medium, radio.
From his first appearance on Radio 3's CD Review in 1987, he has gone on to take part in several hundred radio programmes, most recently concentrating on documentaries about composers and musicians, and particularly on Radio 3's weekly Discovering Music series. He is also presenter on the Classic Arts podcast series Archive Classics.
However Stephen has also made numerous appearances on TV, contributing as guest interviewee on BBC4 coverage of The Proms, ITV's The South Bank Show, and more recently on BBC1's The One Show.
He also made an important contribution, both as commentator and narrator, to Tony Palmer's controversial film about the composer Ralph Vaughan Williams, Oh Thou Transcendent, and more recently to Palmer's film about Gustav Holst, In the Bleak Midwinter.
---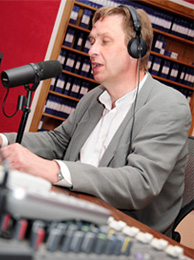 Discovering Music
Radio 3 – Various weekdays
As the presenter for Discovering Music, Stephen explores pieces of music in detail, exploring their backgrounds and playing extracts to help discover what makes them work. Programmes are either based around a featured work or cover a musical topic like melody, harmony or rhythm. Discovering Music has been nominated for Sony and RPS awards. Critical acclaim for Discovering Music
At the moment Radio 3 is not commissioning any new episodes of Discovering Music. However, past programmes are available on the Discovering Music Archive

---
Oh Thou Transcendent
In this first ever full-length film biography of the composer Ralph Vaughan Williams, produced by the multi-award winning director, TONY PALMER, Stephen adds his voice to those arguing that Vaughan Williams is 'the most misunderstood of all the great twentieth century British composers'.
---
Just a few minutes into another brilliant episode of Discovering Music (7 November, 8.20pm) about Vaughan William's seventh symphony, Sinfonia Antartica, and the presenter Stephen Johnson is in his stride, speaking in a way that is hard to render on the page but that sounds incredibly natural and yet also like every other word is italicised.
Antonia Quirke
New Statesman
---
Stephen Johnson's Discovering Music series alone is worth the licence fee.
John Banville
Man Booker Prize-Winner 2005
---
I would like write a short note to express my appreciation of your Discovering music program. I have tried several times over the years to "get into" classical music but have always struggled. I finally realised that I had to sit and listen to it, rather than having it on the background.

Once I started really listening to it, I began to enjoy it, but I didn't understand it. I found that reading a little about the piece helped but I was usually overwhelmed by terminology and unsure of what it was I was suppose to be listening out for. I then came across your show, and what a revelation it was. The background you provide, coupled with description, analysis and helpful metaphors, illustrated with live examples, has transformed my listening.

I am currently progressing (or should that be regressing) through the back catalogue on the website and enjoying it immensely. It is so refreshing to have a presenter who is concerned primarily with the subject rather than the promotion of self. Thank you again for illuminating this 46 year old working class, ex-punk, reggae loving Brummie.
Neal Johnson
---